Our Veterinarians
When a family member is under the weather or suffering from discomfort, they deserve the attention of a caring, competent physician with the skills to diagnose their ailment and the compassion to treat them with tenderness.
At Care Animal Hospital, our expert staff of doctors and our skilled support team are here to do just that. Under the directorship of our highly skilled veterinary doctors, your pet is always in good hands. We're ready when your pet needs us.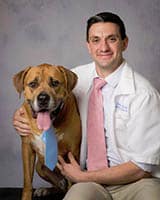 Dr. Dustin Gilbert, Managing DVM
Dr. Dustin Gilbert, Care Animal Hospital's managing veterinarian, was born and raised in Evergreen, CO. He received his bachelor's degree in biology from the University of Denver in 2007. At DU he worked in forensics, doing DNA and body fluid analysis. Dr. Gilbert graduated from Colorado State University College of Veterinary Medicine in June of 2011. He worked as in Associate Veterinarian in Omaha, NE for two years before returning to Colorado. He has worked at Care Animal Hospital since 2013. His special interests include internal medicine, small animal oncology and ultrasound. Dr. Gilbert has three dogs, Penny, a Golden Retriever mix, and Teddy, a Mastiff mix and Lily a Norwegian Elkhound. In his free time he enjoys snow skiing, hiking, barbecuing, and spending time with family and friends.

Dr. Paige Garnett
Dr. Paige Garnett was born and raised in Colorado before graduating from the Colorado State University College of Veterinary Medicine in 1984. After working at another small animal hospital for four years, she and her husband, Walt, opened Care Animal Hospital in 1988. She obtained certification by the American Board of Veterinary Practitioners in canine and feline medicine and surgery in 1996, and led Care Animal Hospital in becoming certified "Gold Standard Cat Friendly" by the American Association of Feline Practitioners in 2012. Her areas of high interest include canine and feline medical and dental care.  She admits to loving "anything cat", owning Randolph Dupree, Bodie and Osbourne Cox, and fostering kittens frequently for Lucky Paws Rescue. The "Garnett menagerie" also includes Sydney, a 10 year old female mixed breed dog, who was adopted from Foothills Animal Shelter, Benson, a 22 year old Mini-Macaw, and Slider, an aquatic turtle. In her spare time, she enjoys throwing pots at the Arvada Center, playing clarinet, and road biking.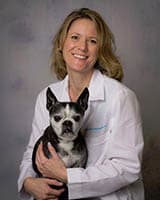 Dr. Mandy Boos
Dr. Mandy Boos has been at Care Animal Hospital since 2005. She has worked in small animal medicine since graduating from the University of Missouri's School of Veterinary Medicine in 2003. Her special interests are dentistry and keeping the veterinary profession involved in community events like the Avon Walk for Breast Cancer. Dr. Boos's furry family includes Goose, a Boston terrier, and Shanaynay, a black cat. In her spare time, Dr. Boos enjoys movies, hiking and keeping up with her daughter Amelia and her son Noah!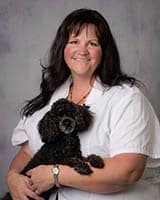 Dr. Joyce Clark
Dr. Joyce Clark has been an associate veterinarian at Care Animal Hospital since 2004. She owns three curly dogs named Baci, Porter and Oakley and one tolerant cat named Daisy. Dr. Clark enjoys all aspects of veterinary medicine, and has particular interests in dentistry and acupuncture. She enjoys reading, knitting, hiking, traveling, and searching for the perfect beach!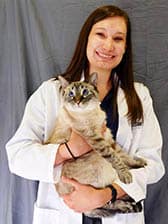 Dr. Cassie Jensen
Dr. Cassie Jensen is the newest veterinarian to join the team at Care Animal Hospital. She was born and raised in North Oaks, Minnesota, but left the state to attend college at Purdue University where she received a degree in Biology. She then attended veterinary school at the University of Minnesota and graduated in May of 2016. After graduation, Dr. Jensen completed a 5 month internship in wildlife rehabilitation medicine before moving out to Colorado to start her career in general practice. In her free time, Dr. Jensen enjoys skiing, playing piano, reading, and traveling to visit friends and family.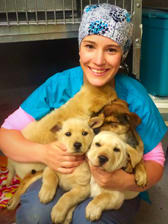 Dr. Natalie Alberg
Natalie grew up in Chester, Virginia, a small-town south of Richmond. Her home was always bustling with affectionate cats and energetic dogs, for as long as she can remember.
She received her Bachelor's Degree in Ecology and Evolutionary Biology from the University of Colorado at Boulder. Following graduation, she worked as a field researcher, energy coordinator, and a veterinary assistant at local clinics and animal rescues. In 2012, she completed her Masters in Biomedical Sciences at Colorado State University. She continued her education at Purdue University College of Veterinary Medicine in West Lafayette, Indiana. While there she was involved in multiple academic and philanthropic organizations.
After graduating from Purdue in 2016, she moved back to Colorado with her fiancé and goofball kitty, Milo. Milo has been a notoriously "difficult" cat at the vet, and his struggles have motivated her to work at a clinic that shares her values of low-stress feline handling. She can relate to all the cat owners that get just as stressed as their feline companions when thinking about going to the vet.
Her special interests include: all things cat (low-stress feline medicine), dentistry, anesthesia/analgesia, and client education. She believes the backbone of a great veterinarian is quality client education.
Outside of veterinary medicine, she LOVES the outdoors. Specifically, she enjoys backpacking, running, tubing, rafting, climbing, and crocheting. She recently went on a two-week excursion hiking the Andes in Peru.